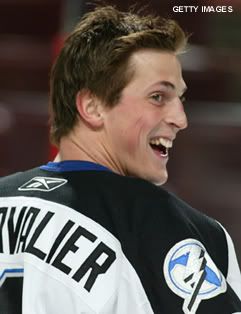 Foolishly dubbed "The Michael Jordan of Hockey" by Tampa Bay Lightning ex-owner Art Williams, Vincent Lecavalier has spent most of his career being a good, but not great, NHL player. Far from being the Michael Jordan of hockey, Vincent was rarely in the spotlight, confined to a southern market, far away from the Canadian media spotlight.
Be it offensive inconsistency, defensive indifference, fights with his coaches, or a lack of discipline, Vincent got the attention but was never the best player on his team. Martin St. Louis, Brad Richards, and Nikolai Khabibulin were arguably more value to the Lightning during their Stanley Cup run than "Prince Vince".
This season? It's been a whole different story, as he reached 100 points for the first time in his career and scored his 50th goal of the season tonight against the Carolina Hurricanes. Sure, it was a weak backhander that he blindly threw at the net, but the great ones always get a few lucky squeakers now and then.
Vincent was always the most talented player on his team, and one of the most talented men in the NHL, but it took him 8 seaons to finally put it all together and become a bonafide superstar. Gone are the days when Vincent was a 'selfish; player, as dubbed by coach John Tortorella.
While he may not earn many MVP votes, Vincent is likely to earn the Rocket Richard Trophy for winning the goal scoring race, as he sits 4 ahead of second-place Dany Heatley.